Mojave Cemetery History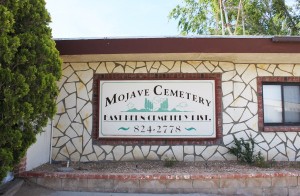 Since 1887, the Mojave Cemetery has been performing burials in the historic town of Mojave, California. Mojave was officially established by the Southern Pacific Railroad in 1886 and served as an early transportation hub with its plentiful gold mining, railroad and wagon routes, including the 1884 Twenty Mule Team Borax Wagon route.
On March 11, 1940,  Mojave Cemetery was deemed the Mojave Public Cemetery District by the Kern County Board of Supervisors. The District has had several Managers through the years. Most notably is Nellie Murphy, hired in June 1973.  She is credited with investigating the grounds & scattered records and creating the maps that we currently use today. The District petitioned the Kern County Board of Supervisors to change the District's name to East Kern Cemetery District when it acquired the California City Memorial Park via lease agreement. The Board approved the change in February 1977.
The Mojave Cemetery has just under four acres developed for interments with an additional four acres for future development.  The Mojave Cemetery is located at the western border of the historic Mojave Air & Space Port.  
History
California City Memorial Park History
California City, California was established in 1965. The city's 80,000 acres have historic roots, dating back to the 1800s Twenty Mule Team Borax Wagon route and the 1776 visit of Padre Francisco Garces, a missionary who camped at Castle Butte (now known as California City.)
The California City Memorial Park began operations in February 1978. The first two interments were performed on April 24, 1978 to James A. Riley, the first official mayor of California City, and his grandson. The two burials were dis-interred from the Mojave Cemetery and re-interred into the new California City Memorial Park. 
The California City Memorial Park has ten acres for interments and is located at the northeast corner of the city upon a small hill with open views in every direction.